The mobility of scooters and wheelchairs is not only challenging for those who must use them, it also puts any commercial building that doesn't have a chairlift in bad light. To ensure that you are within the limits of the law, it is imperative that you get an ADA wheelchair lift for your commercial building.
This way, the wheelchair accessibility of the property will not only be in compliance with state regulations, but it will also boost your productivity in terms of the employees and visitors who will now be able to get in and go out as they please without unnecessary inconvenience.
When you choose AVS Elevators, you will be able to get the commercial chairlifts that your building sorely needs. This way, you will no longer have any concerns about compliance, and it will be a great benefit to people on scooters and wheelchairs who need to get into your building.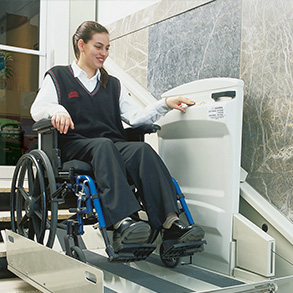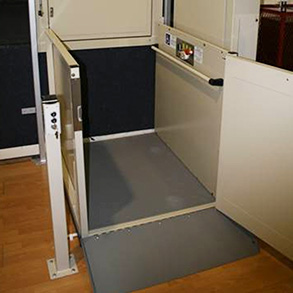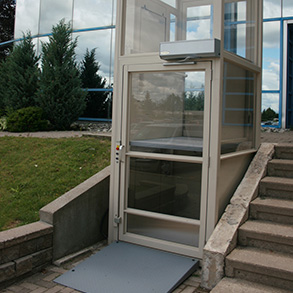 Frank, Dan Jones of Oregon Building Codes Division was on site today for unannounced elevator inspection.  All OK and passed.  Thanks for continued great service!

Thank you, Frank We are all very pleased with your professionalism, customer service and knowledge.

I have had the pleasure of working with Frank Stalen and his company over the last 3 years. Frank has installed and serviced elevators in the Greater Portland area for over 25 years. Inclinator is very excited to have such a knowledgeable dealer on our team. Over the past 3 years I have found Advanced Vertical Solutions and Frank Stalen to be extremely competent and trust worthy in the industry.

Best of luck to you at AVS Elevator - you have dealt with the issues well and to me, that is the critical element in creating long term, win-win relationships.

Hi Frank, Thank you for stopping in. I will take you up on your offer to help guide me thru the permit renewal process. I looked on the e-Permitting website and notice Tualatin licenses thru WA county and does not have an e-Permit program. I didn't want to initially inquire about the process, since we haven't had any PMs and need one to pass their inspection. In perusing the sites, I haven't found a renewal application. Thank you for assisting with pointing me in the right direction, I greatly appreciate it. I have also been very impressed with your companies interest and site visits taking a more in-depth look at the elevator than others. That's very positive to me. Thanks again for coming out.

"AVS Elevator was immeasurably helpful to KNCC in the coordination and installation of a material lift for our client in Central Oregon! Frank Stalen's knowledge of code and compliance is vast, and his willingness to help us understand the mechanics behind the machines he specializes in exceeded our highest expectations. Calm and cool through the typical challenges of this line of work, Frank and Rich were assets to our team and we appreciate all that AVS Elevator's has done, not only for KNCC, but for our client.

After calling just about every Elevator Company in town about this job, you have been the only one to help us get this lift back up and running, so that is impressive in itself. The store was happy with the work done also. I personally appreciate your quick response to my phone calls & emails & keeping us updated on your site visits, estimates and work done. Communication is a vital part of what we do with managing jobs & keeping our client updated, so when we find companies that value that also it makes our job so much easier. I have been very happy with your elevator company and look forward to working with you further.

Frank, I just wanted you to know how much I appreciate the effort and time you and your team provided us in the urgent elevator repair we had. The service you provided us was well beyond any service I have ever experienced from any Elevator Company. This all beginning with the first call to your company. I see us working together more in the near future. It is great to work with an Elevator Company that not only provides excellent elevatror service but understands the customers needs. Thank you again.

Excellent Customer Service!  This will be our third year using AVS Elevator Service.  A couple of years ago we were frantically trying to locate a company to repair our wheelchair lift.  (The previous company was no longer in business.)  Thankfully we found AVS Elevator.  Both Frank and Dennis came out the same day, located the problem immediately and made the repairs. We were back in business!  Their promptness, courtesy and knowledge are also a plus.
Commercial Chairlifts for You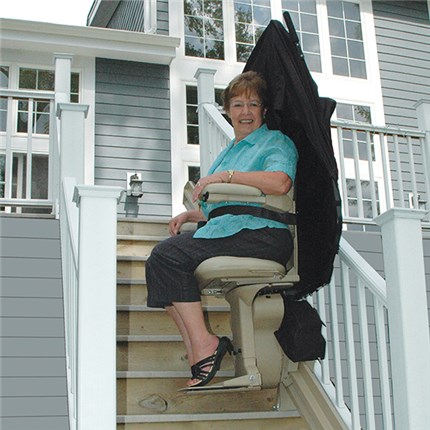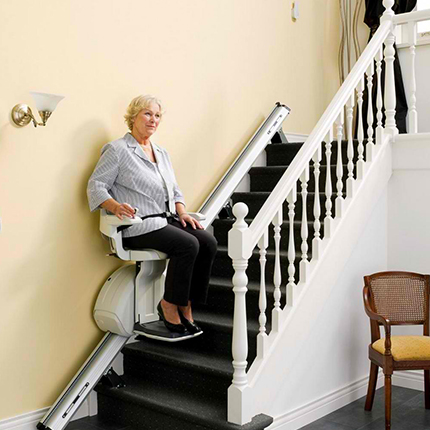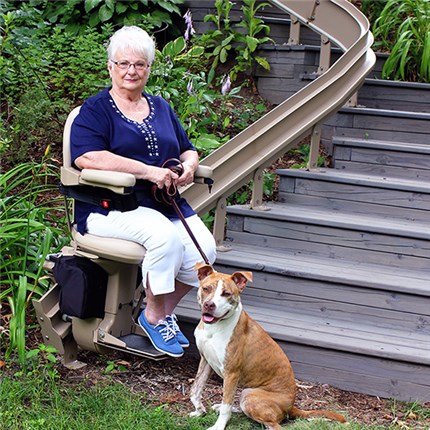 The chairlifts that AVS Elevators installs in commercial buildings are among the safest in the industry – both for the wheelchair and for the passenger. Most of them are designed in such a way that they can lift chairs and scooters (as well as the occupant) and move them up from one level to another in relative comfort.
Our chairlifts are also designed for commercial applications. This is especially when you consider just how versatile they are. Therefore, whether you are looking for stylish chairlifts for your multi-level art gallery, or you need something simpler and more practical for your office building, you can be sure that we have it in stock.
We can even go the extra mile and get your chairlift customized so that they match the interior theme and brand image of your office – thereby ensuring that it seamlessly blends in with the professional space it will be installed inside.
How It Works
The chairlifts supplied and installed by AVS Elevators operate using hydraulic lift systems. The mechanism is designed in such a way that it will move effortless from one level to the next.
Our all-in-one units are so effective that you won't need to create space for any additional machine. In some spaces and buildings, we even install outdoor chairlifts thereby improving the accessibility of these spaces.
Why Get Commercial Chairlifts?
So, why do you need to invest in these chairlifts? What is going to happen when you get them? When most commercial property owners and business people consider the various uses of a chairlift, they tend to only think about the obvious applications of the wheelchair.
However, AVS Elevators can inform you that there are many other benefits that come with having us install an ADA wheelchair lift for your commercial building. Consider the following:
a) Ease and Comfort
For starters, if your office has an entry with stairs going up to the main level, chances are that people on wheelchairs, walking assistants, and scooters will require help getting in. With a chairlift, this problem is solved and mobility becomes both easy and comfortable for everyone.
b) Customization
As with every other product we carry, install, repair, and maintain, our commercial chairlifts are highly versatile in terms of design. This means that we will be able to customize your chairlift so well that it will look like part and parcel of your space and brand.
From warm and rich to modern and sleek, AVS Elevators can tailor the chairlifts we install in your business premises to meet every taste and functionality possible. We can even help you choose the right chairlift for your commercial building or business.
c) Operation
The operation of the commercial chairlifts installed by AVS Elevators is not only smooth, it is also quiet. Since the chairlift will be in operation within a busy, professional environment, silence and smooth sounds are necessary. All of these are taken care of by the chairlift – which works easily and quietly right from when it is started to when it comes to a stop.
d) Installation
As the leading installer of these chairlifts, we have perfected our art. This means that when you call in AVS Elevators to get the chairlifts into your commercial building, you can be sure that we will do so in the least invasive way to your property.
CONTACT US
There are many other features and benefits that you stand to gain from when you get commercial chairlifts from us. To find out more, to schedule a free consultation, or to get your building inspected, please give us a call today on 503-876-3696. The experts at AVS Elevators look forward to making your building wheelchair accessible.