Moving around your home in a wheelchair is difficult. Although you might have ramps, the best solution would be to invest in residential chairlifts. At AVS Elevators, we understand this and stock a wide range of home chairlifts to ensure that your needs are properly taken care of.
Our products are carefully chosen to ensure that you are only getting the best. By so doing, we take care of our clients in terms of passenger and wheelchair safety. The lifts, in particular, will lift your wheelchair as well as you up and down the stairs.
Further, the designs of our residential wheelchair lifts are state of the art and versatile in terms of operation. The useful lift systems are manufactured in such a way that they will travel all the up and/or down the rail system without the risk of toppling over.
Wheelchair users are not the only ones who would benefit from investing in a residential chairlift from AVS Elevator. If you use specialty mobility vehicles – such as a scooter – as your primary means of movement, you will definitely see an improvement in your freedom and enjoyment by getting a chairlift.
You can even ask us to install the stairlift you buy outdoors to make it easier to get into your home. Patios, outdoor stairways and decks all make access difficult. We will get rid of this issue by sending our technicians over to install the right mobility device for your home. When they are done installing the system, your freedom to access your home will be boosted in ways you never imagined possible before.
Talk to us today to learn more about our residential chairlifts, the various options you can pick, and for advice on making the right choice. We are available through 503-876-3696 and look forward to helping you improve your access, enjoyment and freedom with the right chairlift.
This is my third year of using AVS Elevator service, l had my home in Salem Oregon built in 2006 and at that time had a different company install the elevator and do the yearly service but felt they were very expensive for a less than 20 minute service so l checked around and called AVS. I had them come out three years ago and check things out and perform the neccessary services, and was pleased with there promptness, courtesy and knowledge and have had them out now for each of the last three years. Great work from very qualified people. Keep up the good work guys and Thank You....

AVS elevator, owned by Frank Stalen is a company I would recommend to anyone who is looking for excellent service and professional, thorough and straightforward elevator maintenance. He rescued my old elevator with care and provided a long range approach to maintenance.

The AVS gentlemen helped us a tremendous amount in reducing the cost of our elevator. Frank and Dwayne came to our church and gave us a bid of about half the price of the company we had been dealing with. They also explained that the other company was overcharging us on battery maintenance ($600 for 15 minutes of labor and a $20 battery). AVS covers the same battery replacement in the maintenance agreement for free! Frank and Dwayne were courteous, helpful, and informative about reducing our costs to a minimum. If you want your elevator costs cut along with having a conscientious, owner-run business maintaining your elevator, then call AVS.

Dear Frank I can't thank you enough for the fine work you did getting our elevator going Up-n-Down. As you know, our church has been going through a number of trials, and seeing this project completed has been like seeing sunny skies after a long dark period. The signed maintenance agreement is enclosed and we have already had a surprise inspection from the state inspector! Your patience and professionalism is certainly amazing and much appreciated! I am glad you are overseeing the maintenance of the elevator!

I needed help with my wheelchair lift immediately and didn't know where to turn. I called several elevator companies but when Dwayne answered the phone at AVS and listened to my needs and asked important questions about the lift, I knew that this was the company that genuinely cared about my situation and its urgency. The very next morning, I had the owner of the company and an experienced and well seasoned technician getting my lift to work. What a relief! They worked with me to get the lowest cost option that fit my needs and took great care of me. Thanks you guys! you're the best!

Thank you for your quick and organized elevator service. Even thought Frank had to respond to an emergency they made time in the evening to come and repair my home elevator. He is a Prince ! Thank you !

Thank you Frank, Dennis was great, very thorough elevator service.

The elevator is now running very smooth. Thanks for getting this fixed. Our previous elevator company never could get it to work properly.

AVS Elevator, It was a pleasure meeting you and your company President.  I have been so impressed with this elevator, the design, operation, fit, and finish.  I know this job site presented some challenges but the installation team at AVS Elevator was top notch and I am very impressed with their expertise and concern for a perfect fit and proper operation.  They were probably the "NEATEST" subcontractor on this home construction as well!  I am also comforted to know that service is nearby if I should ever need assistance.  As I mentioned, my previous experience with a home elevator was on an island in the Puget Sound and service was a ferry ride away (and many hours) so I am much more comfortable knowing support is minutes away. Again, my sincere thanks as we are so very grateful for the gate/track modifications that will allow us to get Rick's power chair into our New Elevator.  As I mentioned, this is a significant improvement over our first elevator and we recognized it right away. The final modifications to ensure the maximum entrance width for my husband's Permobil wheelchair will make all the difference for us!

I am very appreciative of your quick response to our call for help.

We are so blessed to have you service our elevator in order for its

functionality to be maximized.

Very Grateful,

Dear Frank, We are so pleased with the work Dennis did on our "vintage" lift yesterday, and with the great service and super-fast turn-around from your company. Impressive indeed! Thanks again for a great job!

I wanted to thank you for the time you spent today on the stairlift. We are both very impressed with the level of personalized service and after care that you provide. Everyone that worked on the stairs and lift have been really professional and friendly, and my mum is really pleased with the results.

We have really enjoyed the new stair lift. Your crew was professional, efficient and fast. Thanks for all that you did to make it all happen so quickly. Use of the New Outdoor Stairlift in this wonderful fall weather has allowed to continue gardening.

Frank and his team were a pleasure to work with. Once the stairlift arrived, they installed everything in one day. Great service!

We've had great service from Frank and his team at AVS Elevator over the years.

If you are looking for the right elevator service company than look no further by calling Frank, the owner of AVS at (877-221-8554). You will not be disappointed with his response and quality service. We are VERY happy and grateful to AVS to service our elevators on the OREGON Coast.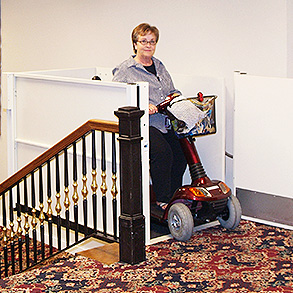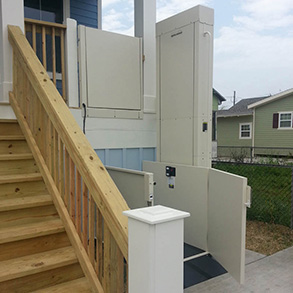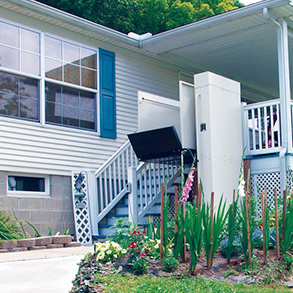 Custom Made Chairlifts
To further boost your confidence, comfort, and convenience, we have custom-made residential chairlifts for you. These products are particularly designed to suit any practical or aesthetic need you might have.
Whether you are looking for something that will look good in your ultra-luxury building or you like the rural setting you live in, you can always count on AVS Elevator to meet your needs. What is more, these systems are designed to meet the various budgets our clients have.
Apart from the above, the range of options in terms of finish is also as extensive as the wide variety of potential uses of our residential chairlifts.
Why Get a Chairlift for Your Home?
Other benefits that come with our chairlifts include, but are not limited to:
In terms of variety, there are so many options that you might end up asking our technicians to help you pick the right one for you
The installation process is quite simple and will take a very short period of time
The systems are quiet
They come with standard, easy-to-use features
They operate smoothly and easily
We ensure the added safety of every chairlift we install
CONTACT US
To learn more about the residential wheelchair lifts we have in stock, please give us a call on 503-876-3696 today. We look forward to improving your mobility, freedom, access, and enjoyment with these chairlifts.